In Mexico, the Day of the Dead is one of the most important holidays of the year as it is the time the spirits of the deceased are summoned back to earth for a visit.
In many cultures, death is feared; in Mexican society, that fear manifests itself in playful celebrations with undertones of mockery! This celebrated holiday traces its origins to indigenous Mexico some 3000 years before the arrival of the Spanish and is seen as the time of year when the veil between life and death is at its thinnest, and the best time for the souls of the departed to slip back home for a visit with the family. During our seven-day wellness tour, we will participate in this time-honored tradition and use San Miguel de Allende as our home base.

 $3,245 per person, double occupancy
$3,745 per person, single occupancy
Sun, Oct 30: Arrive in Mexico City
Mexico City is home to over 25 million people with an impressive history. Once the capital of the Aztec Empire, this dynamic, bustling cosmopolitan city has seen indigenous, French, Spanish, and American influence. Upon arriving at Mexico City's Benito Juarez International airport, you will make your way to the Marquis Reforma located in one of Mexico City's loveliest areas.   For dinner, we will walk along the tree-lined streets of this charming neighborhood where a dinner at one of Mexico's best restaurants has been arranged.
Dinner included.
Stay at  Marquis Reforma 
Mon, Oct 31: Wellness of Body : hiking ancient pyramids, music to feed your soul!
Just an hour outside of Mexico City lies one of the largest structures on Earth, the Pyramids of Teotihuacan. We will spend the morning on a guided tour exploring this magnificent site and climb to the top of the Pyramid of the Sun, the site of pre-Aztec worship and sacrifice. After, we will have lunch at one of the world's most unique restaurants, La Gruta, a colorful Mexican dining experience built inside a cave!  We will then make our way to charming San Miguel de Allende, where we will have dinner and enjoy live music and cocktails at La Noche Piano Bar featuring Johnny Favourite, a Canadian ex-pat singing from the Great American Songbook. 
Breakfast, lunch and dinner included.
Stay at the incomparable Hotel Matilda
Tues, Nov 1: Wellness of Spirit : Private Cooking Classes and Day of the Dead
If a city can be described as being too charming, then San Miguel de Allende would win. Filled with beautiful art galleries, colorful architecture, spas, boutique stores, and local artisans, San Miguel de Allende will captivate your heart and soul. In the morning, we will experience Mexican cooking with a hands-on class with world class chef  Victor Manuel Palma of the San Miguel de Allende's Rosewood. We will eat what we prepare as our lunch and then spend an afternoon on your own to explore the boutiques, go antiquing, and experience daily life in this photogenic city. Individual spa treatments can be arranged at Rosewood Sense Spa, Spa Matilda or Laja Spa at the Casa Sierra Nevada (not included). In the evening, we will head into the central square to partake in the magical celebrations of the Day of the Dead that come to life at dark.  Dinner is on your own tonight as you explore this magical city in all of its glory.
Breakfast and lunch included.
Stay at the incomparable Hotel Matilda
Nov 2: Wellness of Mind, Body & Spirit : Temazcal and Mayan Baths
After breakfast at the hacienda, we will head to El Charco del Ingenia, a local nature reserve, where a private temzacal — or indigenous sweat lodge — has been arranged. After lunch at the hacienda, spend some time wandering the cobblestone streets of San Miguel.  On the day following the Day of Dead, they will likely be covered in marigold petals and offerings to the deceased. Before sunset, we will head to The Mayan Baths for an evening of healing thermal waters, delicious appetizers and cocktails, and stunning vistas. Individual spa treatments can be arranged as well.
Breakfast, lunch, and a light dinner included.
Stay at the incomparable Hotel Matilda
Thurs, Nov 3: Day trip to Guanajuato, UNESCO World Heritage Site
After breakfast at the hacienda, we will drive about two hours to the once mining town of Guanajuato.  Once the birthplace of Diego Rivera, today it is a thriving university town with cobble stone streets and brightly coloured houses unlike anything you may have seen before!  After a tour of the town — and the obligatory drive through the miles of underground tunnels (replete with stop lights and stop signs!), you will have the day to do what is done in Guanajuato — meander! Lunch will be on your own as you get lost in the winding streets. In the later afternoon, we will return to San Miguel and have dinner at arguably the best restaurant in town…The Restaurant.
Breakfast and dinner included.
Stay at the incomparable Hotel Matilda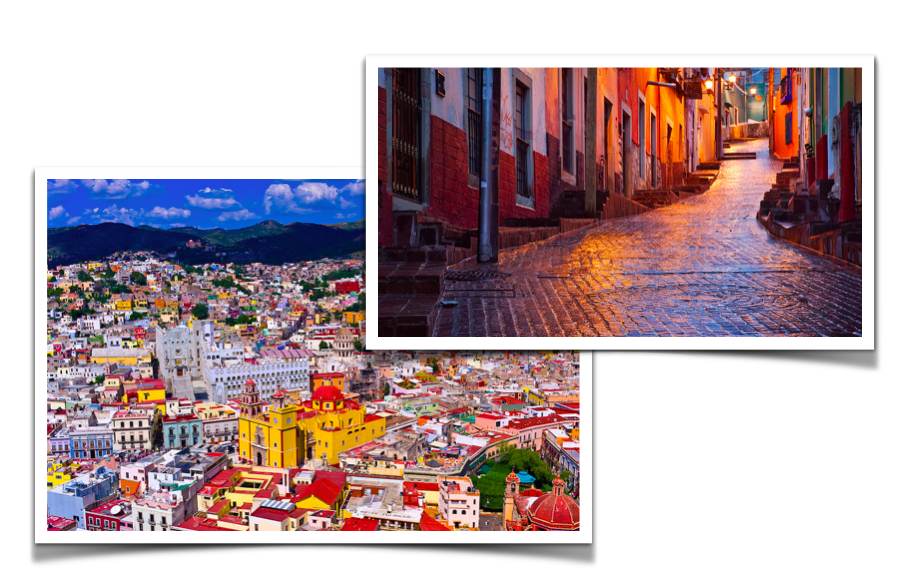 Fri, Nov 4: House of the Angels, our morning of service
In rural areas surrounding San Miguel de Allende, most Mexican families make only $6 to $8 USD per day. Children are often left at home, alone and unattended, so that their parents can work. Enter Casa de Los Ángeles  (or House of the Angels) a local non-profit that helps single Mexican women by providing free day care and food (sometimes the only meal a child gets that day) to deserving children. We will spend some time helping staff with daily activities for the children. For lunch, we will head to Fabrica La Aurora, a former mill converted into expansive artists galleries. After, we will head back to Mexico City where we will stay near the airport for tomorrow's departing flights.
Breakfast and lunch included.
Stay at NH Hotel Mexico City Airport
The seven-day, six-night itinerary includes:
Intimate tour of Central Mexico with a bilingual guide
1 night stay at Marquis Reforma in Mexico City (arrival)
Private tour of pre-Aztec City of Teotihuacan
Evening drinks and dinner with local musician
4 nights stay at  Hotel Matilda  in San Miguel
Private cooking class at Rosewood Hotel
Evening at Day of the Dead La Calaca Festival
Light dinner and private hot springs at The Mayan Baths
Full day of exploring in the colonial town of Guanajuato
Dinner at The Restaurant
1/2 day of volunteering with Casa de Los Ángeles
Lunch at Fabrica La Aurora
1 night stay at NH Hotel Mexico City Airport (departure)
Entrance fees to all activities
Nearly all meals
Transportation in luxury van
Drop-off in Mexico City International Airport
 $3,245 per person, double occupancy
$3,745 per person, single occupancy