This September join us for a wellness journey to the gorgeous Santa Fe region of New Mexico. We will spend five days and five nights at the new Sunrise Springs Spa Resort as our base of literal and figurative exploration of the El Camino Real, the trade route traveled by Mexicans into San Juan Pueblo, NM from 1598 to 1882.
Nestled among 70 acres of breathtaking beauty, at Sunrise Springs Resort Spa you'll discover gracious hospitality, enchanting accommodations with local artisan touches and vibrant farm-fresh cuisine.
Along with sister resort Ojo Caliente Mineral Springs, they honor the ancient wisdom of Native Americans, the sacred land and the legendary healing waters.
The Camino Real was established as a National Historic Trail in 2000 and various areas are designated UNESCO World Heritage Sites with a rich history which we'll discover. This "journey of discovery and wellness" extends as we learn more about ourselves while we share an authentic Medicine Wheel Experience and reconnect with the revitalizing power of nature of this stunning region.
Our trip includes:
5 night stay in a beautifully furnished, spacious casita with gas fireplace and private courtyard, or a charming resort-style guest room with private balcony
 Breakfast each day
Two delicious farm-to-table lunches and four dinners at Sunrise Springs
Half-day hike on the El Camino Real to see La Cieneguilla Petroglyphs
Visit to El Rancho Las Golondrinas where we'll experience the culture and traditions of New Mexico's Hispano past
Visit to San Ildefonso Pueblo with artist studio visit and Traditional Pueblo Meal
Private Medicine Wheel Experience with Sunrise Springs Lead Counselor, Michael Schroeder
Visit to Ojo Caliente Mineral Springs including access to mineral pools, mud pool, steam and sauna
Day to trip to Ghost Ranch, home to painter Georgia O'Keefe and Abiquiu, a peaceful village with stunning views
Afternoon visiting Santa Fe's galleries, shopping and a visit to local artisans
Private cocktail reception at Patina, one of Santa Fe's most renowned galleries
Spa Credit good towards massages, facials or body treatments
Daily activities such as Yoga, Fitness classes, Horticulture experiences, Silky Chicken and Puppy Interactions Culinary and Art Classes
Round-trip group transfer from the Santa Fe Airport
NOTE: Trip price is exclusive of taxes and flights.
TUESDAY, SEPTEMBER 5, 2017
You will be greeted at the Santa Fe Airport by Sunrise Springs Spa Resort for the ten-minute drive to the property.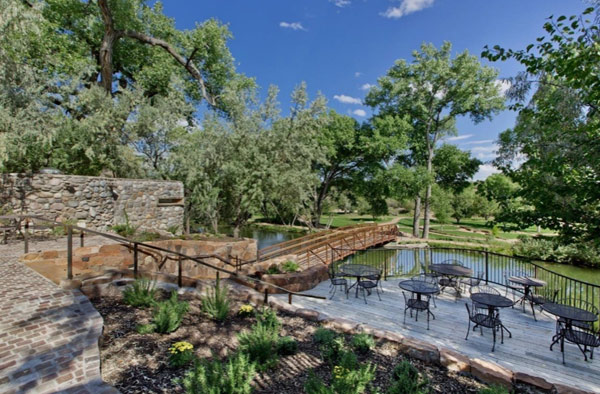 After you settle in to your beautiful casita or resort-style guest room, feel free to explore this tranquil oasis that has been a source of rejuvenation to travelers for centuries. In the evening we will meet for cocktails at Moon House followed by dinner at Blue Heron for a farm-to-table meal skillfully prepared by Chef Rocky Durham.
Dinner included
WEDNESDAY, SEPTEMBER 6, 2017
After breakfast we will depart for a visit to Abiquiu to see Ghost Ranch, the home of painter Georgia O'Keefe. With its stunning landscapes, Ghost Ranch is a place of magnificent natural beauty, comprising deep, multicolored canyons and cliffs, plains, grasslands and streams. Its rocks span 130 million years of ancient geological history, featuring lakes, floodplains, and deserts.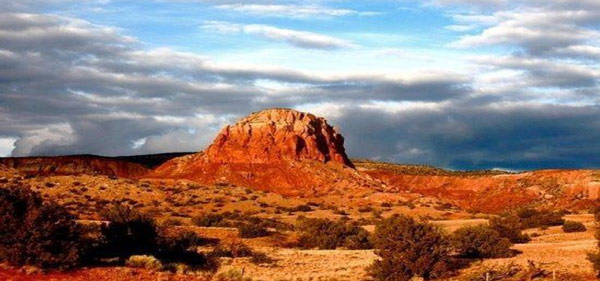 In the early afternoon, our journey continues with a visit to Ojo Caliente Mineral Springs. Deemed sacred by Native American tribes of Northern New Mexico, Ojo has been a gathering place and source of healing for thousands of years. Over 100,000 gallons a day come streaming to the surface from four distinct sulphur-free mineral springs, revitalizing those who soak in these legendary waters.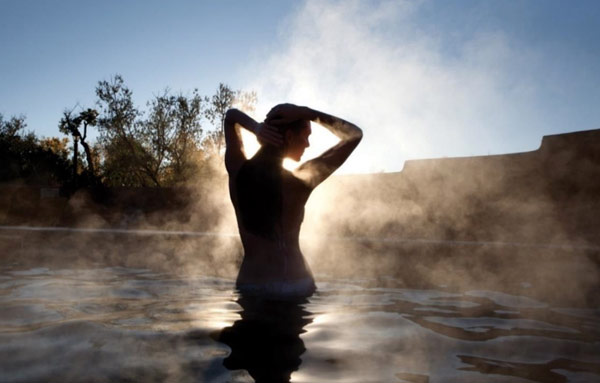 You will have time to soak in the four mineral pools, enjoy the mud pool, and use the steam and sauna. Spa treatments may be booked (not included in tour). Lunch is at leisure in the Artesian Restaurant, featuring produce and herbs grown at the local Ojo Farm.
We return to Sunrise Springs in time for a relaxing dinner, then off to a good night's sleep thanks to all the relaxing soaking we've experienced!
Breakfast and Dinner included.
THURSDAY, SEPTEMBER 7, 2017
Sleep in a bit or start the day off with yoga or a fitness class followed by breakfast.

Then we'll come together for our Medicine Wheel Experience with Sunrise Springs' Lead Counselor Michael Schroeder. The Medicine Wheel, sometimes referred to as the "Sacred Hoop," has been used by generations of Native American tribes for health and healing. It embodies the Four Directions as well as Father Sky, Mother Earth and Spirit Tree –all of which symbolize dimensions of our wellbeing and the cycles of life.
This afternoon you are free to explore all that Sunrise Springs has to offer – book a spa treatment, participate in a Horticulture class, make herbal tea bags or sleep pillows at a Culinary Class, play with paint in an Expressive Arts class, or have a Silky Chicken or Puppy Interaction (definitely not to be missed!). You may also book a private soaking session in Sunrise's Ojitos open air experience. Dine on your own this evening or join the group if you prefer.
Breakfast, Lunch and Dinner included.
FRIDAY, SEPTEMBER 8, 2017
We depart bright and early for an invigorating, beautiful two-hour hike to the La CIeneguilla Petroglyphs. We'll learn more about the El Camino Real and its significance to this region while getting some exercise and taking beautiful photos along the way.
In the mid-morning we'll take a short drive to the EL Rancho de Las Golindrinas, a living history museum located on the El Camino Real. There we'll learn more about the culture and traditions of the people who traveled this road, see indigenous weaving and enjoy a picnic lunch.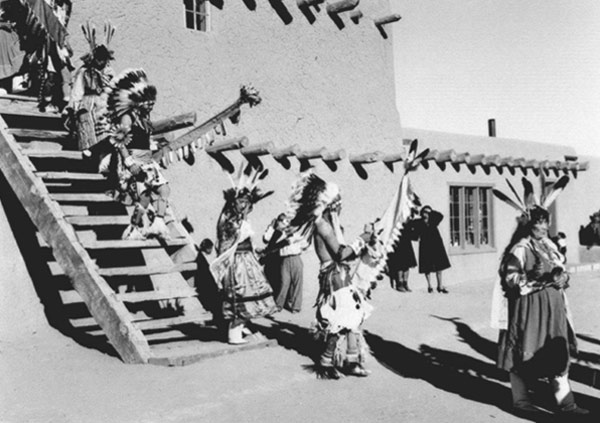 Our next stop is the Pueblo de San Ildefonso, which dates back to 1300 A.D. when the people from Bandelier moved down to their current location next to the Rio Grande. Today the Pueblo spans over 60,000 acres and has an enrollment of approximately 750 people. We will have a brief tour and visit an artist's studio.
Our El Camino Real Day ends with an early supper at the Pueblo consisting of authentic foods eaten by the locals.
Breakfast at Sunrise, picnic lunch and Pueblo Dinner included.
SATURDAY, SEPTEMBER 9, 2017
Enjoy all the morning has to offer at Sunrise – breakfast, a walk, yoga, a fitness class or schedule a spa treatment or private soaking experience in the mineral springs.

At noon we depart for downtown Santa Fe for shopping and gallery hopping. Known for charming historic buildings filled with treasures handmade and hard to find anywhere else, Santa Fe is a shopping mecca! Whether you're looking for fashion or furniture, cowboy boots or Concho belts, salsa or silver and turquoise jewelry, you'll find that and so much more. Uncover Santa Fe's hidden treasures while shopping independent boutiques, flea markets, and the largest art markets in the country.
Have cocktails and Innovative Southwestern fare created by award-winning chefs. New Mexicans love their chile – its spicy, delicious and unlike anything you've ever tasted. Discover the legendary and innovative flavors of Santa Fe, including the local chile which isn't an ingredient, but a way of life.
We'll end the afternoon with a private reception at Patina, often described as Santa Fe's most beautiful gallery. We then head back to Sunrise Springs Spa Resort for our last group experience together at the Blue Heron.
Breakfast and Dinner included.
SUNDAY, SEPTEMBER 10, 2017
Our El Camino Real Road to Wellness Journey ends with a group transfer to the Santa Fe Airport and promises to return to this special place in the future.
Breakfast included.
For more information, please contact Sallie Fraenkel sallie@mindbodyspiritnet.com.